WEBDESIRO'S POWERFUL MARKETING AUTOMATION FOR YOUR BUSINESS
WELCOME TO THE FUTURE OF MARKETING.
IT'S CALLED INBOUND MARKETING.
WEBDESIRO'S MARKETING AUTOMATION SOFTWARE
Webdesiro's inbound marketing automation software will raise your game above the competition. With more efficient lead capturing and lead nurturing tactics, live data will let you focus on the most interested contacts. Generate far more sales the inbound permission marketing way.
The statistics show you generate far more sales with inbound permission marketing and using marketing automation software to boost your strategy.

WEBDESIRO'S MARKETING AUTOMATION PLATFORM
A SUITE OF SOFTWARE TOOLS USED FOR MARKETING CAMPAIGN OPTIMISATION
Webdesiro's marketing software is a sales and marketing management platform with powerful automation capabilities. It is a suite of tools that greatly assists sales and marketing professionals, as well as marketing departments to drive more leads, convert more leads to sales, and maximise their return on investment (ROI).
Digital marketing agencies can also benefit from using Webdesiro's marketing automation platform for its clients. We can help you through the integration process and be there for ongoing training and support, until you are ready to fly the nest.
Month-to-Month Billing
Long term contract? Nope. If you don't like us, you can leave.
We like it that way because it keeps us on our toes.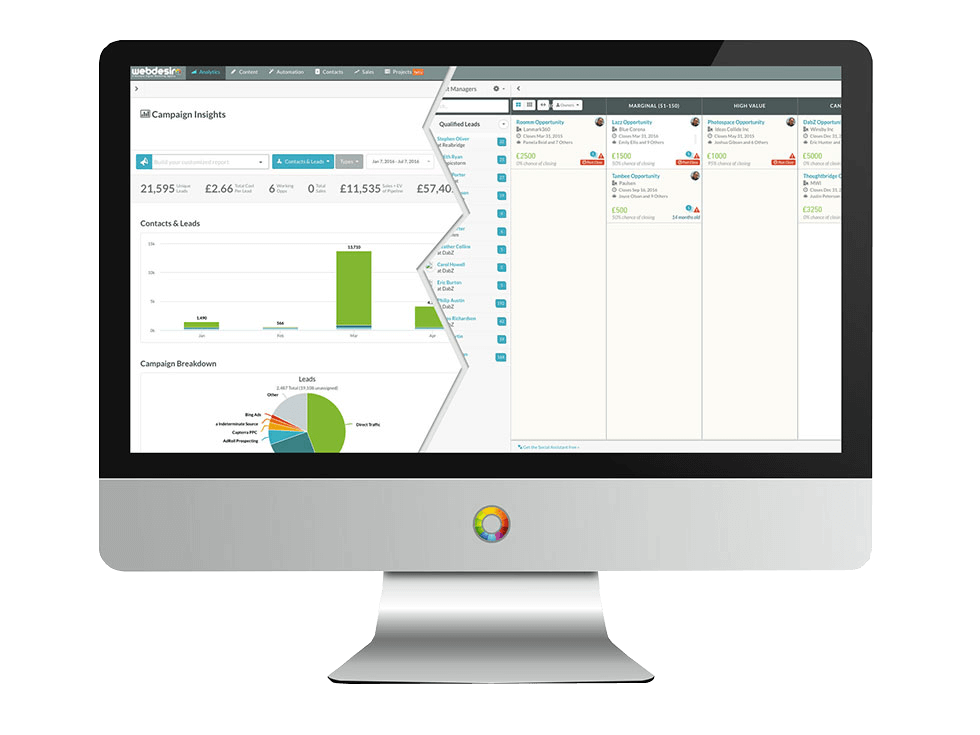 Intuitive Interface
We've slaved over our interface so you don't have to. "Everything in its right place" makes you as the user, happy.
"After reviewing several other automated marketing apps, it was refreshing to see an interface that was simple, beautiful and easy to use."Graeme Murray – MD, Pointmedia Creative Solutions Ltd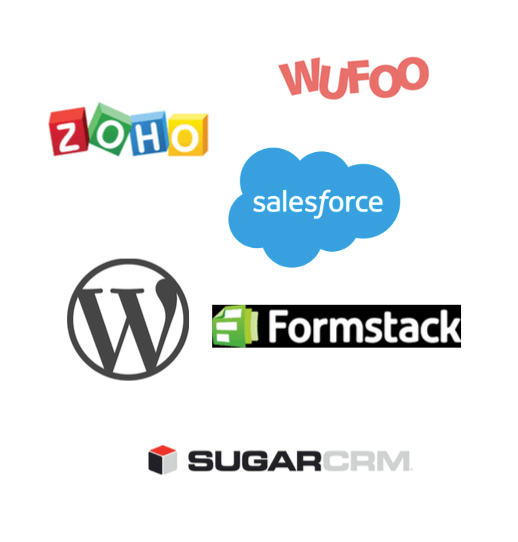 Flexible Platform
No need to migrate off your current CMS, CRM or forms just to get the benefits of marketing automation. It just works.
Webdesiro's marketing automation platform works with your CMSs, so you don't have to rebuild your website or landing pages.
We integrate with 3rd-party CRMs, and have our own built-in CRM if you need one;
Built-in dynamic form, landing page and blog builder, plus support for all kinds of 3rd-party form builders like Gravity, FormStack and Woofoo
Full-featured API and hundreds of integrations means we're connected
Benefits for Marketing:
More Leads, Less Spend
See an end-to-end picture of the customer journey, from first interaction to conversion and beyond.
Track leads acquired through both online and offline channels.
Know which campaigns are most effective and increase the number of leads that come in without increasing spend.
Create automatic email marketing campaigns based on the behaviour of your leads.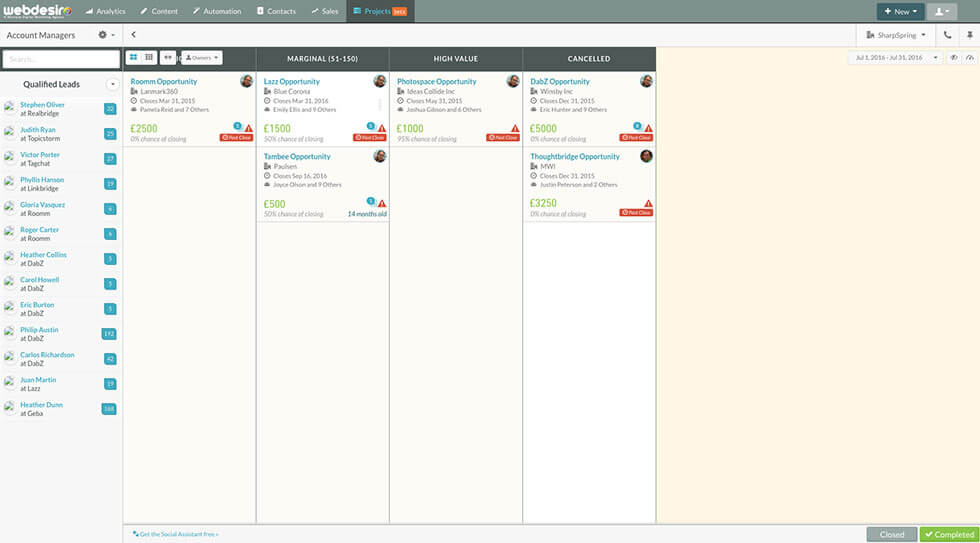 Benefits for Sales:
More Sales, More Revenue
Use VisitorID to identify anonymous web visitors, and easily create new lead records using the integrated CRM.
Focus time on sales-ready leads that have already been nurtured with relevant content and prioritized with custom lead scoring.
See the complete history of every lead, and shape your sales pitch around his or her specific interests.
Create alerts for sales people on hot lead activity so they can immediately reach out whenever a lead demonstrates interest in making a purchase.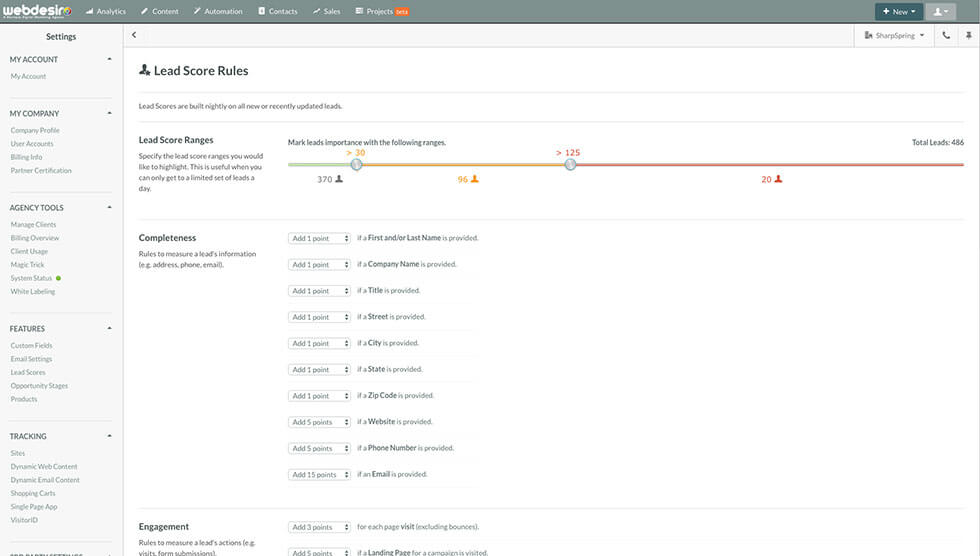 Webdesiro's marketing automation software enables a company to automate their lead generation system. This focusses attention on leads that have the best chance of closing.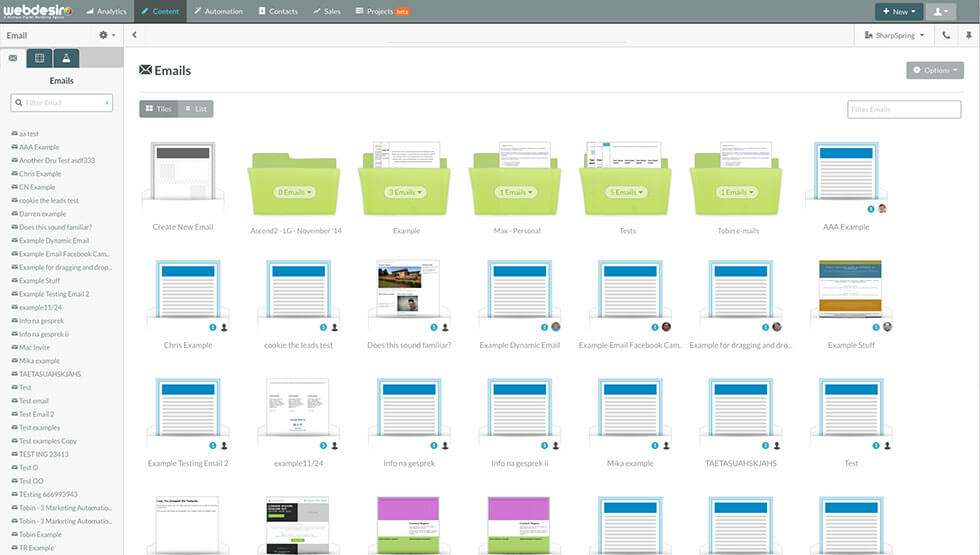 Outbound or inbound campaigns – it's up to you.
The software can be used for outbound marketing, also known as traditional or interruptive marketing as well as inbound marketing campaigns, commonly known as permission marketing. Inbound marketing is where a potential new customer is nurtured along the buying cycle until they are ready to buy your product or service.
Check our marketing blog (coming soon) which covers the inbound strategy and automation tools in more detail.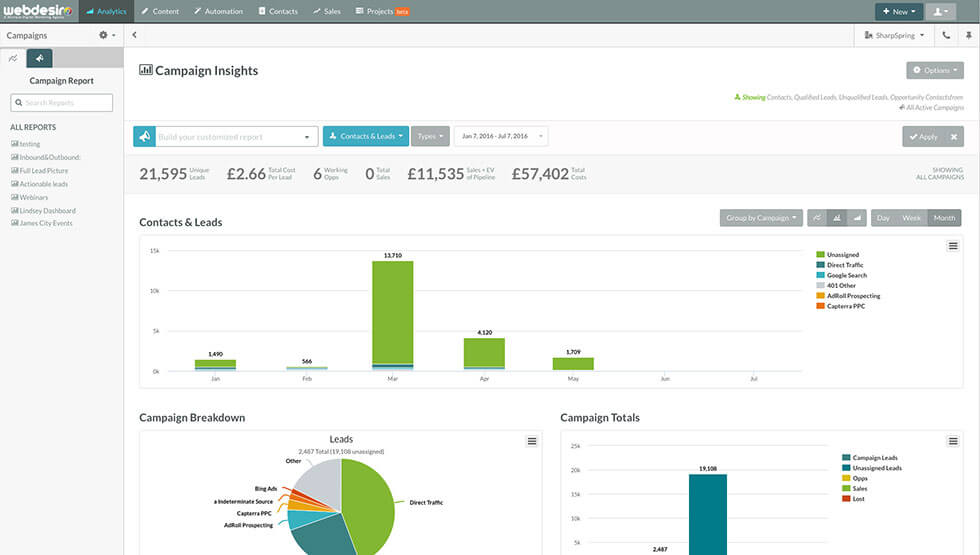 With everything in one place, you'll find it easier than ever to grow your business.

Use the platform for traditional outbound marketing campaigns which;
Gains new leads from new business contact data Improve sales mark up rates from your existing
customers
Prove your ROI.
Use the marketing automation platform for inbound marketing campaigns which;
Nurture potential new customers until they are ready to buy
Maintain quality relationships and more sales from your existing customer base
Improve referral rates from your existing customers
Prove your ROI.
Ready To Learn More? No Contracts. Cancel Any Time
We would love to work with you. Get in touch.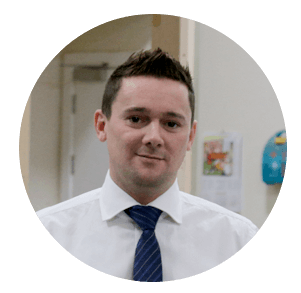 Robert Hoey - MD, Allstar Joinery Ltd
"I can't say enough about Webdesiro – they have totally turned our website and overall marketing around. They are constantly creating new content to continually improve our Google rankings. The resultant lead generation from their efforts is proving a great success. The practical onsite personal service is remarkable. We are extremely happy with the results. I only wish I had found George and his team at Webdesiro earlier."
Let's work together and do something amazing for your business
Call 0141 628 8991 or email us